Dental Implants — Carmichael, CA
A Permanent Solution
for Missing Teeth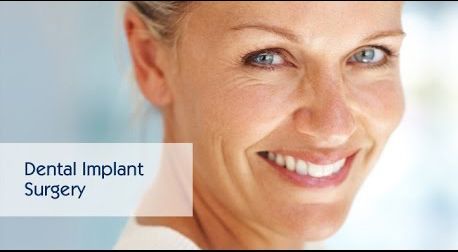 A single missing tooth can cause all kinds of problems, and those only become worse as more teeth go missing. For people with an incomplete smile, even simple tasks like eating, speaking, and smiling can become awkward and painful. Does this sound familiar? If so, then Dr. Ji is ready to offer you the most complete tooth replacement available today: dental implants. With them, he can rebuild your smile no matter how many teeth you are missing, and you can look forward to the beautiful results lasting for decades to come. To learn more and schedule a consultation, give us a call today.
Why Choose Sheng Ji, DDS, MD Oral & Maxillofacial Surgery For Dental Implants?
Dual-Trained Surgeon in Both Dentistry & Medicine
Sedation Options to Make Every Procedure Comfortable
Advanced Dental Implant Procedures Available
What Are Dental Implants?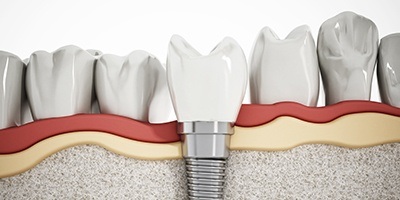 A dental implant consists of three parts. First, a small titanium implant post is placed into the jawbone to replace the roots of the missing tooth. This provides a solid and reliable foundation for the custom-made final restoration on top of it, which can be a dental crown, bridge, or denture. A small connector piece called an abutment fastens the final restoration to the implant post. The end result is a solution that replaces the entire structure of a missing tooth, allowing it to look, feel, and function just like a natural tooth.
The 4 Step Dental Implant Process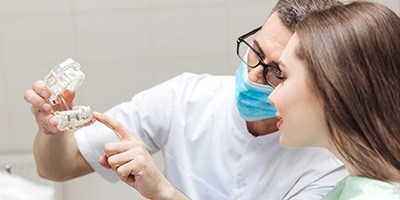 Before anything else, we'll need to evaluate your oral health to make sure dental implants are viable in your case. We can then move on to the preparation phase. This might mean removing some of your remaining teeth (although healthy teeth are preserved when possible). We'll also need to figure out the optimal placement of the areas to avoid complications.
The next step is to have your new dental implant placed. On the day of the surgery, Dr. Ji will open your gums and insert the appropriate number of implant posts. You can expect the implant healing process to take several months; while the gums should heal within a few days, we need to allow time for the implant post to fuse with the bone. Once it has, you can receive an abutment. During the final step, your general dentist will create your dental prosthetic, which might be a crown, a bridge, or dentures, and attach it to the abutment.
Dr. Ji is a true expert at rebuilding smiles with dental implants. He has performed this procedure countless times over the course of his career, and he always uses the latest technology to formulate extremely precise treatment plans. Combine this with our sedation options, most patients enjoy both a successful procedure as well as a quick recovery.
Benefits of Dental Implants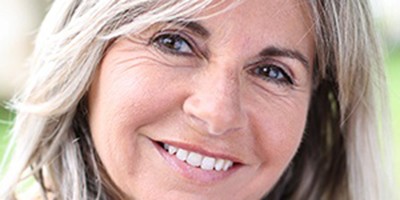 Over the past two decades, dental implants have quickly become the gold standard when it comes to tooth replacement. They are the first recommendation Dr. Ji makes to his patients who are looking to recover their lost teeth, and he has already used them to restore countless smiles over the years. Because implants are able to replace both the root and crown of a tooth, they're able to offer a number of advantages other treatments simply can't.
Complete Security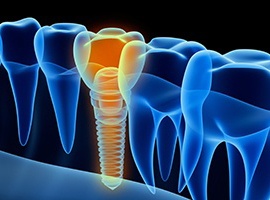 Dental implants form a foundation directly in the jawbone, which gives them the kind of stability only a real tooth can match. When a patient has implants, they do not have to worry about their new teeth slipping out of place or breaking. Dental implants function like your real teeth, allowing you to eat your favorite foods with confidence and without pain.
Unmatched Appearance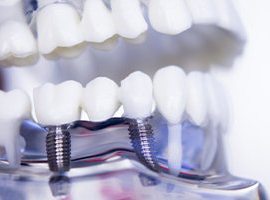 Dental implants are usually topped with custom-made porcelain restorations, and because they don't require any metal or acrylic attachments to stay in place, they're able to recreate the appearance of a natural tooth down to the finest detail, helping a patient recover their oral health and confidence at the same time.
Long-Term Protection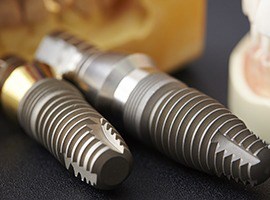 After a tooth goes missing, it's normal for the jawbone in the area to start shrinking. This can weaken the foundation of the surrounding teeth and cause a person's face to develop an aged, "sunken" appearance. Other tooth replacements can't do anything about this, but dental implants can! Once in place, the new roots actually stimulate new bone growth in the jaw and encourage renewed blood flow, helping a patient maintain a more youthful face shape as the years go by.
Highly Successful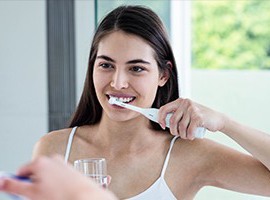 When placed by a skilled oral surgeon like Dr. Ji, dental implants have an impressive 98% success rate, meaning they are virtually guaranteed to give a patient the results they want.
Easy Maintenance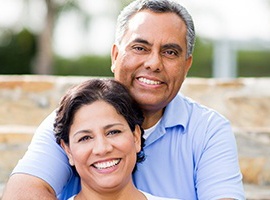 Taking care of dental implants is simple—you basically look after them just like your real teeth! Consistent brushing and flossing along with regular checkups at the dentist are all that's needed to ensure implants look and function like new for decades to come.
Lifelong Solution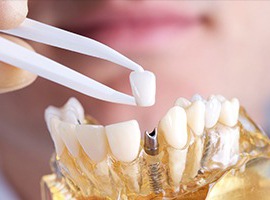 With the proper care, nothing is as reliable as dental implants. While most other tooth replacement solutions only last about five to ten years on average, dental implants can easily last for 30 years or more.
Wallet-Friendly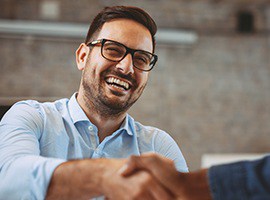 While dental implants do tend to cost more upfront compared to traditional bridges and dentures, over the long-term, they are the much better investment. Thanks to their longevity, patients end up spending much less on routine maintenance for their new teeth overall, which can easily add up to thousands over the lifespan of dental implants.
Who Dental Implants Can Help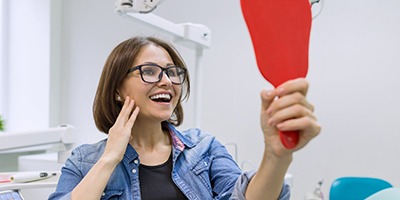 One of the best things about dental implants is that they can be used to help patients with any number of missing teeth. As long as someone has good dental health, stable overall health, and enough jawbone to support the new tooth roots, they are suitable candidates for implants. If a patient is lacking any of these requirements, Dr. Ji can help them get ready for the procedure. Once a patient is set to begin treatment, he can use the following restorations to renew the smile:
Missing 1 Tooth
Dr. Ji can place a single dental implant topped with an all-porcelain crown between two healthy teeth without altering them at all. This is a much less invasive approach compared to a traditional bridge in which the remaining teeth have to be filed down in order to support the prosthetic.
Missing Multiple Teeth
For patients missing multiple teeth in a row or all throughout their mouth, a small number of implants can be used to support a prosthetic such as a bridge or denture. Compared to their traditional counterparts, implant-retained prosthetics not only have a more secure hold, but they've been shown to last much longer as well.
Missing All Teeth
If a patient is missing all of their teeth along a single arch, Dr. Ji won't have to replace each tooth with an individual implant. Instead, he can use just four to six implants to anchor a full denture to the jaw. Implant dentures are more stable than regular ones, plus they help a patient recover much more of their original bite strength, enabling them to enjoy a more varied diet with ease.
Some patients may be a candidate for All-On-4 implants, which utilize four strategically placed dental implants to support a full denture. During your consultation, Dr. Ji will review both options with you and help you choose the one that's right for you.
Understanding the Cost of Dental Implants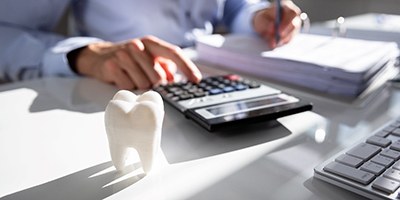 Every dental implant procedure performed by Dr. Ji is completely personalized based on the needs of the patient, and because of this, there is no fixed price for implants. The number of implants needed, the type of restoration used, and even the location of the new teeth can all influence the overall cost. While implants can be a sizeable investment in your oral health, they are one that you can trust to last for multiple decades with minimal maintenance. This is much, much longer compared to the five to seven-year lifespan of more traditional replacements, meaning overall, most implant patients actually end up saving money on their new smile.
Types of Dental Implants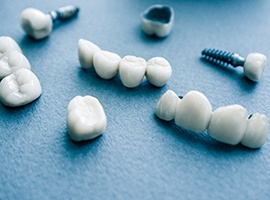 Unlike other restorations, dental implants can be used to replace any number of teeth. Naturally, the extent of your tooth loss affects how many implants you need, and thus influences the overall cost. Patients who have only lost one tooth will likely need a single implant post and a crown, but multiple teeth in a row will need to be replaced by an implant bridge, and in some cases you might even need full prosthesis supported by four to six implants (implant denture or All-On-4). Dr. Ji will aim to use to most conservative number of implants necessary to restore the appearance and functionality of your smile.
The Stages of Dental Implant Treatment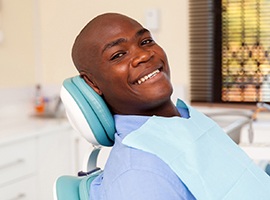 When you are considering dental implant as an alternative treatment to restore your smile and function, on average it is reasonable to expect multiple appointments/stages until a final crown is placed. Usually this process starts with preparing the underlying bone for implant by either removing broken tooth along with simultaneous bone graft procedure, or in scenarios where tooth has been lost, the remaining jaw bone may or may not need augmentation prior to implant surgery. Once implant is surgically placed, you can expect an average of 3-5 months of healing period prior to placement of the implant post/abutment followed by routine crown fabrication by your general dentist.
Are Dental Implants Worth the Investment?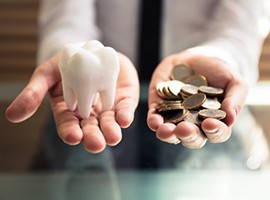 Some patients might be discouraged to find that dental implants are generally more costly than traditional dentures and bridges, but over the long term, you'll find that the procedure is most certainly worth it. The implants will let you enjoy a wider variety of foods, keep your jawbone healthy, and avoid various inconveniences (such as the slipping that often occurs with ill-fitting dentures). There's even a good chance that implants will prove to be the most cost-effective option over time because they can often last for the rest of your life without needing to be replaced; by comparison, you'll usually need new dentures and bridges every 5 to 15 years.
Does My Dental Insurance Cover Dental Implants?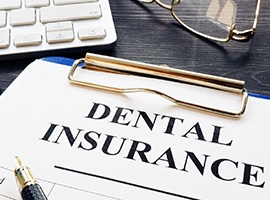 Many plans don't cover implant placement while others do, so you'll need to check with your insurance carrier to see what benefits are offered. Even if the procedure itself doesn't receive coverage, your plan could still pay for related procedures. For example, if one of the stages of your treatment is to receive bone graft augmentation/socket preservation, you can normally expect insurance to kick in. We're happy to help you file a claim to maximize your benefits. We are in-network with many common dental PPOs, but we also accept plans that are out-of-network. Financing through CareCredit is also available.
Advanced Dental Implant Procedures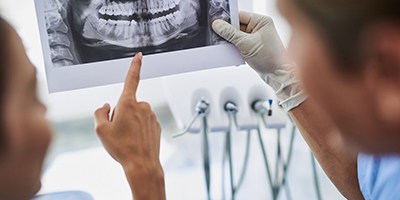 Some patients are better candidates for dental implants than others, but with the help of the advanced dental procedures that Dr. Ji can offer, more people than ever before are able to undergo the surgery. Do you have a jawbone that has degenerated due to years of missing teeth? Or do your sinuses not leave any room for an implant? With bone grafting and sinus lifting, we can help you overcome these complications so that your smile can be restored.
Bone Grafting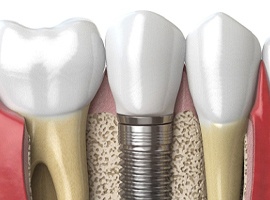 Dental implants are meant to help prevent bone loss in your jaw, but if you've waited too long before having your teeth replaced, odds are you've already lost some bone density in that area. We'll need to rebuild the bone before moving forward with the implant surgery, and to do that we need to use a procedure called bone grafting. Bone tissue will be taken from another part of your body such as the hip or a denser part of the jaw; in certain cases, commercially available bone graft material will come from another person or animal instead. In any case, the new tissue will be transplanted to the degraded area, where it can stimulate the growth of new bone. The surgery normally takes anywhere from 45 to 90 minutes, and afterwards it can take three months to a year for your mouth to fully recover. Implant placement will take place after we've determined that your jaw will be able to join with and support the posts.
Sinus Lifts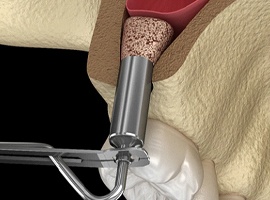 A sinus lift can be used to add density to a degenerated much like a bone graft. However, this procedure is exclusively used for the upper jaw, and it has the additional benefit of moving the sinus cavity further away from the mouth. We may recommend a sinus lift if we find out that the cavity does not currently leave enough room for dental implants. During the surgery, we'll open the gums where your tooth was and create a window in the bone. We can then gently lift the membrane that separates the sinuses from the jaw so that we can place the grafting material underneath it. Afterwards, you can usually expect about 4 to 9 months of healing before we move on with the actual dental implant process.
Maintaining & Caring for Your Dental Implants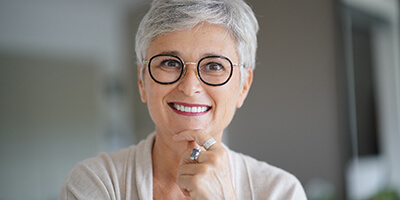 Dental implants in Carmichael have the potential to last for decades. In fact, they commonly endure for a lifetime. Whether or not your implants live up to their potential depends to a large extent on you. By diligently caring for your restored smile, you can reduce the risk that infection or trauma will seriously damage it. Fortunately, maintaining dental implants isn't complicated or time-consuming. In fact, in many ways, it is similar to caring for natural teeth.
Make Oral Hygiene a Priority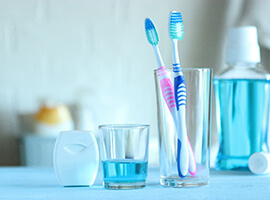 One of the most common causes of dental implant failure is an infection known as peri-implantitis, which occurs when bacteria attack the tissue around an implant. Oral hygiene is one of the best ways to prevent such an infection. You should brush your teeth at least twice a day, being sure to clean both the backs of your teeth and the area along the gumline. Once-daily flossing is also key. Dr. Ji might also recommend that you use an antibacterial mouthwash.
Eat a Healthy Diet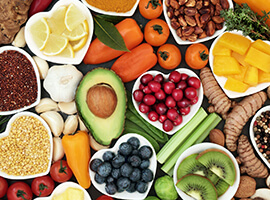 Dental implants can enable you to eat virtually any food. However, just like some foods are better than others for natural teeth, dental implant care in Carmichael also requires that you make smart choices about what you consume. For example, you should enjoy sticky and sugary food in moderation. Extremely hard foods (like jawbreaker candies) should be avoided altogether. Instead, try to focus your diet on foods that promote oral health. Items that are rich in calcium, vitamin C, and vitamin D may all be beneficial.
Break Bad Habits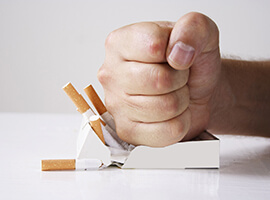 Smoking can slow down your body's ability to heal after dental implant surgery. It also increases the risk of dry mouth and gum disease, both of which can pose a danger to dental implants. Every effort you make to kick the habit will be worth it!
Another bad habit that might harm implants is biting on hard items. Chewing on pen caps, crunching on ice, or using your teeth as a tool may all damage dental implant restorations and your oral tissues.
Protect Your Dental Implants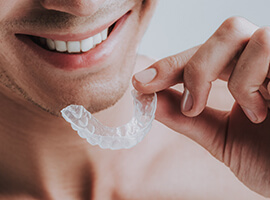 If you play sports, you should always wear a mouthguard to prevent the need for an emergency appointment with your implant dentist in Carmichael. A custom mouthguard from a dentist provides better protection than one that you can purchase over the counter. You might also need to wear a special mouthguard at night if you tend to grind and clench your teeth while you are asleep. The mouthguard can prevent you from putting excess pressure on your dental implants that might damage them or their restorations.
Schedule Regular Dental Checkups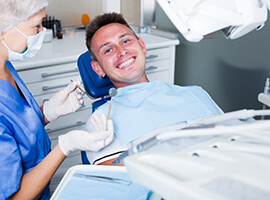 Even though dental implants can't get cavities, regular checkups with your dentist remain as important as ever. At your appointments, your dental team may remove your restorations, clean the area around your implants, and look for any early indications of infection or other issues. They may be able to catch problems while they are still in their early stages and relatively easy (and relatively inexpensive) to fix.
Dental Implant Failure & Salvage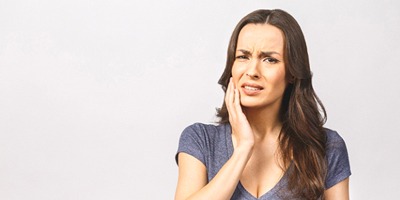 Dental implants are successful in the vast majority of cases — for most patients, their new teeth are still thriving many years or even decades after placement. However, there is still a small chance that you could face dental implant failure. If you ever suspect that something is amiss with your dental implants, call us right away. Dr. Ji will assess the situation, recommend a treatment, and do everything possible to preserve your restored smile.
Frequently Asked Questions about Dental Implants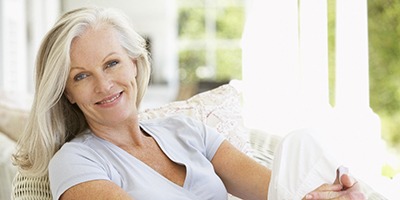 Even with all this information available to you, you may still have questions about getting dental implants. Our team in Carmichael want you to be fully informed about this replacement option so that you're completely confident moving forward. Here are some questions that we are often asked by our patients. We hope our responses below help you see how dedicated we are to your smile's success. If you have other questions, if you'd like to discuss your concerns in more detail with Dr. Ji, you can request an appointment.
Do I Need a Bone Graft Before Getting Dental Implants?
For patients in need, a bone graft enables them to qualify for dental implants. This preliminary procedure may be necessary if the patient has lost too much jawbone due to long-term tooth loss, previous advanced periodontal disease, osteoporosis, uncontrolled diabetes, and chemotherapy and radiation treatment for certain kinds of cancers. Before we perform the placement procedure, we will collect detailed images of your jaw and ascertain whether a bone graft would help ensure success.
Does Getting Dental Implants Hurt?
Before the implant placement procedure begins, we will administer a local anesthetic, so you will be numb. As the jawbone has very few nerve endings, the surgery itself should not feel painful at all; however, you should be aware that you may feel some minor discomfort in your mouth for a few days following the procedure. If needed, you may take pain medication, whether prescribed or over-the-counter, as we instruct. You may also use a cold compress. Should your discomfort increase past three days afterward, contact our office immediately.
How Long Does It Take to Recover from Dental Implant Surgery?
Compared to many other dental procedures, implant placement is one of the most complex. That being said, you should be capable of returning to your normal routine about 24 hours after the surgery. The bleeding should subside after a couple of days, and swelling should go down after about four days. Keep in mind, however, that you should not participate in strenuous activity, which can slow down the healing process, for about a week after implant placement. To give your implants a chance to integrate fully with the jawbone, we may need to wait up to six months.
Will I Have to Take Off Work for Dental Implant Surgery?
Each patient is different in terms of their healing needs or their situation; however, in general, many patients take one or two days of time off for implant placement. Do you have a physically demanding job? We may recommend taking three or four days off in order to give your body more time to heal before returning to work. Or you may want to consider scheduling your procedure for a Thursday or Friday to give yourself more quality healing time.
How Long Does Dental Implant Surgery Take?
The duration of implant placement depends on how many implants you're getting during a single appointment. Typically, placing one implant can require an hour or two when you factor in the anesthesia and surgical preparation. During your consultation, we can determine how many implants we'll place and give you a clearer timeline you can expect.