Implant Supported Dentures — Carmichael, CA
Sturdy and Long-Lasting Tooth Replacement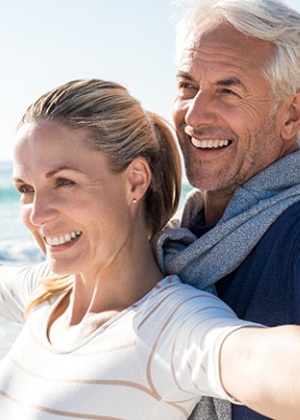 According to one estimate, more than 36 million Americans are edentulous (missing all of their teeth). While traditional dentures have helped many of these people, regular prosthetics have their drawbacks. For example, they may not be very strong, and they need to be replaced every few years. Is there a better solution? For many patients, yes. Dr. Ji and our team can help you take advantage of implant dentures in Carmichael/Fair Oaks. Contact Sheng Ji, DDS, MD Oral & Maxillofacial Surgery today to learn more about this remarkable tooth replacement solution or request a consultation.
Why Choose Sheng Ji, DDS, MD Oral & Maxillofacial Surgery for Implant Supported Dentures?
Surgeon Dual-Trained in Both Dentistry & Medicine
Sedation Options for Comfortable Procedures
Experienced in Maxillofacial Reconstruction – Predictable Prognosis in dealing with Complex Cases
What Are Implant Dentures?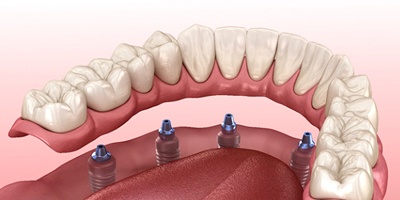 Dental implants are titanium prosthetic that is integrated to your jawbone with the intention to mimic natural tooth roots. Dr. Ji places them into the jawbone at strategic locations so they can serve as the base of support for an entire arch of replacement teeth, either fixed (All-on-4/"Teeth in a Day") or removable (Implant supported denture). Implant supported dentures tend to have better retention and stability compared to traditional removable dentures, which simply sit on top of the gums.
There are a few different types of implant supported prosthesis. The one that is right for you will depend on your unique circumstances.
Fixed/Permanent Implant Supported Prothesis
As their name implies, these are permanently attached to the 4 – 6 implants that support them. They can only be removed by a dental professional. Many patients favor this type of prosthetic because this option provides the most natural replacement of your dentition that also yields the highest chewing capabilities. The prosthesis remains attached to the implants and does not need to be removed at night.
Removable Implant Dentures
These prosthetics are easy for patients to remove without help. They are supported by implants and secured via ball- or bar-shaped attachments on top of the dental implants. Since the prosthetics can clip onto physical attachments supported by implants rather than purely relying on suction as used by traditional dentures, removable implant dentures typically will yield better stability/retention (no more flip flopping dentures) and also allow patients to chew with higher force compared to traditional dentures. They are generally regarded as the middle of road treatment between traditional denture vs. All-on-4 or "Teeth in a Day". They typically will require fewer implants than All-on-4/"Teeth in a Day", ranging anywhere from 2-4 implants per arch. This is a great solution for a balanced approach to both cost and function in terms of treatment, and sometimes it is the best solution in severely atrophic jaw which renders other options non-viable.
The Implant Denture Procedure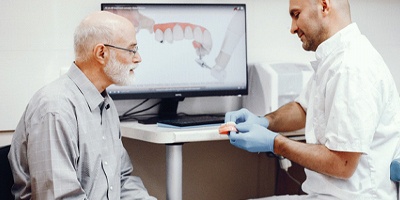 The implant supported denture procedure can vary from patient to patient. In general, it requires a time investment of at least several months and involves four main steps:
Consultation. Dr. Ji will assess your oral health, talk to you about your goals for treatment, and start planning your next steps.
Implant placement. Dr. Ji surgically places your prosthetic tooth roots into your jawbone during a minimally invasive surgery.
Osseointegration. Over a period of several months, the implants will bond with the bone around them.
Restoration. Your general dentist in Carmichael or a prosthodontist will design and place your new teeth.
Am I a Candidate for Implant Dentures?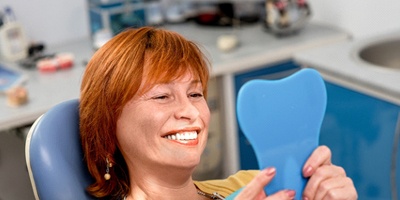 Most adults who are missing all or most of their teeth qualify for implant dentures. Some general criteria that patients should meet include:
Good oral health
Fair overall health
Adequate jawbone density to support dental implants
Good habits such as a commitment to thorough oral hygiene
Even if you are not currently a good candidate for implant dentures, you may become one after some preliminary treatments, such as a bone graft or gum disease treatment.
Benefits of Combining Dentures & Dental Implants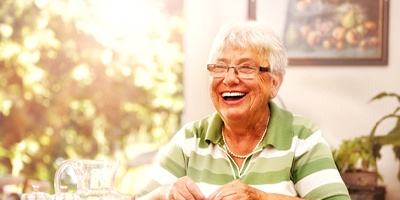 Implant dentures offer numerous benefits, including:
Implant supported dentures can provide much better retention and chewing capabilities, including some of the crunchy and tough foods. They will not slip out of place if you bite into a whole apple or a juicy steak.
Dental implants have the potential to last a lifetime if they receive proper care, and their restorations also have a long life expectancy.
Jawbone preservation. Dental implants prevent the jawbone deterioration that normally occurs after tooth loss.
Cost-effectiveness. Implant supported dentures cost more upfront than traditional dentures, but they offer an excellent long-term value. Our team is ready to help you figure out the financial aspects of your care.