Implant-Retained Dentures – Carmichael, CA
Give Your New Teeth Some Sturdy Roots
Do you have problems with dentures that slip out of place or need to be relined periodically? A full arch of false teeth can be essential to your everyday life, but if you want them to be as strong and stable as possible, you'll need to find a replacement for your missing tooth roots. Implant dentures in Carmichael are a more comfortable, effective way to replace an entire arch of teeth so that you can chew, speak, and smile as easily as you used to. If you've been thinking it's time to move up from traditional dentures, call Dr. Ji for a consultation.
Why Choose Sheng Ji, DDS, MD Oral & Maxillofacial Surgery for Implant-Retained Dentures?
Expert Oral/Maxillofacial Surgeon
Precise Implant Placement
Sedation Available to Make the Procedure Comfortable
How Do Implant-Retained Dentures Work?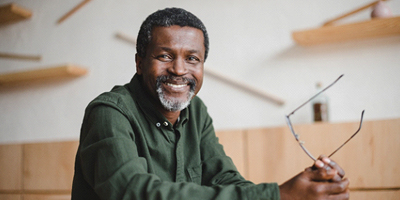 The dentures themselves will be much like traditional ones; they'll consist of beautiful false teeth and an acrylic base that will blend in with the rest of the mouth. However, instead of resting directly on the gums themselves, they will be attached to dental implants – thin metal posts that fuse with the jawbone and act as prosthetic roots. This helps stop the bone resorption that occurs when you lose your teeth; in other words, the implants will work to prevent bone loss. Meanwhile, they'll hold your dentures firmly in place and give them additional strength that will let you chew all your favorite foods again.
Am I a Candidate for Implant-Retained Dentures?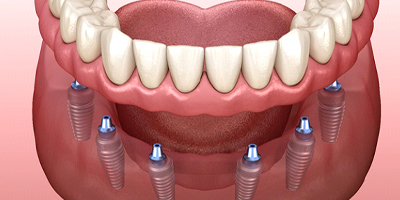 Anyone who has lost all of their teeth (or could lose all of their teeth in the near future) is already a candidate for traditional dentures, but whether or not you can also receive implants is another question that Dr. Ji will need to answer after an examination. You'll need a certain level of bone density in your jaw, or else the implant posts won't be able to join with it properly. Also, gum disease and other oral health issues could easily lead to implant failure if they're not addressed first. Of course, all of these issues can often be treated with additional procedures such as bone grafting.
The Implant-Retained Dentures Procedure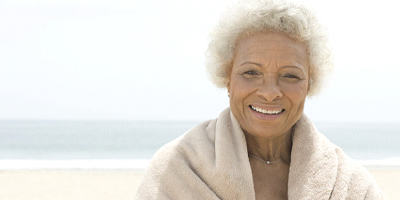 We can schedule the surgery to place dental implants in your mouth once the necessary preparations are made. The procedure consists of creating a few holes in the gums and jaw for the implant posts to be surgically inserted into. Normally, about 4 to 6 posts are used. We'll then need to wait for three to six months for the implant and jaw to fuse together, and once they have, abutments can be attached. At that point, an impression can be taken so that a set of dentures can be designed. Anchoring your new dentures to the abutments is the final step.
Benefits of Combining Dentures and Dental Implants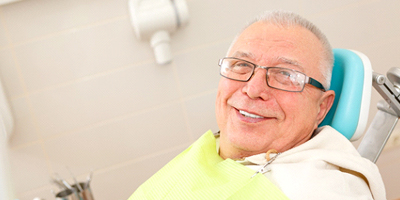 Thanks to the improved stability of your new teeth, you'll be able to speak clearly, and you can safely eat a wider variety of foods. Your jaw will be healthier as well and will continue to support your facial structure and help you maintain a youthful appearance.
Since your dentures will be permanently attached to the implants, you don't have to take them out to clean them; you can use a toothbrush like you normally would. And thanks to their durability, your implant posts will last for a very long time – perhaps even the rest of your life – if you take proper care of them.