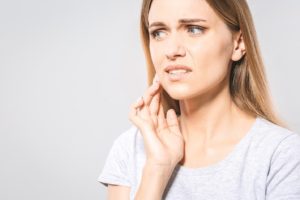 Dental implants are successful in the vast majority of cases, but that does not mean they are risk-free. Complications may crop up that cause an implant to become loose. If that happens to you, what should you do? Let's talk about why an implant may feel loose and how your dentist or oral surgeon may be able to address the problem.
Why Does the Implant Feel Loose?
There are basically three reasons why a dental implant may feel loose:
The implant is not loose at all — but the restoration is. In some cases, the crown, bridge, or denture on top of an implant may incur damage that makes it feel loose. Teeth grinding, hard impacts to the face (such as those that might occur during sports), and normal wear and tear could all be culprits behind a loose restoration.
Osseointegration failed. If an implant becomes loose within the first year after it is placed, it is likely due to the bone failing to fuse with the implant. This may happen because of pre-existing health conditions, failure to comply with post-surgical instructions, or other factors.
Peri-implantitis. Peri-implantitis is an infection that damages the tissue around a dental implant. In addition to a loose implant, you may also experience redness, swelling, and pain in the gums around it. Missteps in oral hygiene, tobacco use, and uncontrolled diabetes all increase the risk of peri-implantitis.
Your Action Plan
As soon as you notice that an implant feels loose, contact your implant dentist. If you procrastinate about getting treatment, you give the problem an opportunity to worsen. For example, an infection could spread beyond your mouth and cause systemic illness, or a damaged restoration may end up breaking altogether.
At your appointment, your dentist will perform a visual examination, and they will likely use imaging equipment to get a look at what is happening beneath the gum line. Once they pinpoint the cause of the issue, they will recommend a treatment plan to get your oral health back on track.
If a damaged restoration is the problem, you may simply need a replacement. However, if failed osseointegration or peri-implantitis is causing the implant to feel loose, you'll require more extensive treatment. Depending on the severity of the issue, it might be necessary to remove the implant altogether. Then, once any traces of infection are gone and your bone is healthy, it may be possible to replace the implant.
Does one of your dental implants feel loose? Seek professional help as soon as possible. Hopefully, your dentist or oral surgeon can save your implant and enable you to continue to enjoy a strong, complete smile for many years to come.
About the Author
Dr. Sheng Ji is an oral surgeon in Carmichael who has special training and expertise in dental implant placement and other advanced procedures. If you are interested in getting dental implants, or you have concerns about your current implants, Dr. Ji would be happy to speak with you. You can contact our office at 916-961-1902.