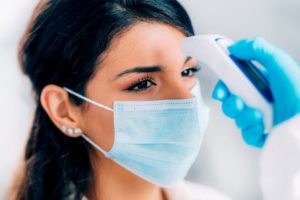 Before the outbreak of COVID-19, your oral surgeon and dentist near Fair Oaks had a fairly simple procedure for preparing to see you. They would thoroughly wash their hands, put on fresh gloves and a mask, and ensure they were using sterile instruments. Now, however, additional safety protocols are necessary to protect the health and safety of both patients and oral surgery team members. Exactly what do those protocols involve? Let's discuss a few of them.
Health Screenings
Your oral surgeon near Fair Oaks and their team love to see you. However, they would never come to work if they knew there was even a small chance that they could cause you to become ill. That is why they undergo a quick health screening every day before they begin work. The screening includes a contactless temperature check and a brief questionnaire that assesses whether it is likely that they have been exposed to COVID-19. Patients must undergo a similar screening prior to each appointment.
Social Distancing
While the very nature of oral surgery requires some close human contact, your oral surgery team is doing their best to promote social distancing. That is why they have:
Set up a virtual waiting room so you can check in for your appointment from your car.
Removed some chairs from the waiting room so patients can remain at least six feet apart.
Changed their scheduling procedures so that fewer people are in the office at any given time. They also allow more time between appointments so they can maintain an environment that is as clean as possible.
Started scheduling more teledentistry appointments for consultations and follow-ups.
Additional PPE
Personal protective equipment (PPE) has always been important in dentistry and oral surgery. However, now it is more vital than ever. You may notice that members of the clinical team are wearing two masks at all times — an N95 respirator and an ASTM Level 3 mask. Depending on the procedure they are performing, they may also wear face shields as well as disposable gowns and caps. Even the front desk staff, who never previously had to wear masks, are now wearing ASTM Level 3 masks.
Patients are not exempt from the need for PPE. You should wear a mask when you are in the office and not receiving treatment. However, keep in mind that you should not wear gloves because that increases the risk of cross-contamination.
If you require oral surgery, there is no need to postpone necessary treatment due to COVID-19. Your oral surgery team is doing everything within their power to keep you safe and healthy during these uncertain times.
About the Author
Dr. Sheng Ji is an accomplished oral and maxillofacial surgeon who is proud to serve patients in Carmichael, CA and the surrounding areas, including Fair Oaks. In addition to focusing on providing top-quality care, he also places a heavy emphasis on patient safety. To learn more about Dr. Ji and the safety protocols he has in place, contact our friendly team at 916-961-1902.