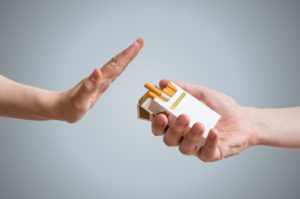 The success of your dental implant surgery depends largely on the skill and experience of the oral surgery practice that you entrust with your care. However, you also play a big role in your treatment's outcome. Following your surgery, it is important that you avoid certain activities so you can lower your risk of complications and facilitate a smooth recovery. Here are a few things NOT to do after your dental implant procedure:
Smoke Cigarettes
After your surgery, your dental implants will begin to bond with your jawbone. Smoking can interfere with this process. It can have other adverse effects as well, including increasing your risk of infection. You should avoid smoking in the weeks immediately before and after your surgery. If you are concerned about withdrawal symptoms, a nicotine patch might help. Of course, it would be preferrable if you kick the habit altogether.
Engage in Intense Exercise
Do you enjoy exercise? You might miss your workout during the days after your surgery, but it is important that you get plenty of rest. Intense exercise could increase blood flow and cause extra bleeding from your surgical sites. Plus, you will likely be tired for the first few days. It would be wise to listen to your body and take it easy until your oral surgeon clears you for more vigorous physical activity.
Eat Hot or Hard foods
Hot, spicy, and hard foods could irritate your surgical sites and slow down healing. Depending on how many natural teeth you have left, you might also find it extremely difficult to chew such foods. During the initial part of your recovery period, you should stick to a no-chew diet, followed later by a fork-tender diet.
Drink Through a Straw
Most of the time, drinking through a straw is perfectly acceptable for dental health. In fact, it can minimize the contact the liquid has with your teeth and help to reduce your risk of stains and cavities. After dental implant surgery, however, it would be wise to avoid straws for a few days. The suction action could dislodge the blood clots at your surgical sites and lead to painful complications.
Spitting and Excessive Rinsing
Swishing vigorously with saltwater or mouthwash during the first day or two after your procedure may disturb your surgical sites and lead to bleeding. Instead, you should gently swish the liquid in your mouth. Then, instead of spitting it out, simply let it flow out into the sink.
Your oral surgeon wants you to enjoy a smooth recovery after your implant procedure. The above guidelines can play a role in making that happen. Of course, if you run into any unexpected problems or concerns while you are on the mend, you should call your oral surgeon's office to ask questions or request an appointment.
Meet the Oral Surgeon
Dr. Sheng Ji is a highly educated professional who is dual trained in both medicine and dentistry. He is a board-certified oral and maxillofacial surgeon. Patients from Carmichael and the surrounding communities are welcome to visit our practice for dental implant placement and a range of other procedures. To learn more about us and the services we offer, contact us at 916-961-1902.