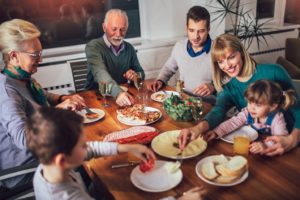 The past couple of years have been challenging for everyone, but as 2021 winds down, many people are pausing to "count their blessings," so to speak, as they reflect on all the reasons they have to be thankful. Things like family and friends are among the top reasons for gratitude. But for countless people, dental implants are also worthy of a thankful spirit. Let's talk about some of the many advantages they offer.
The Ability to Eat Anything
Have you ever gathered with friends and family for a meal, only to feel embarrassed because tooth loss limits the foods you are able to consume? After you receive dental implants from a qualified oral surgeon, that problem will become a thing of the past. Implants and the artificial teeth they support are extremely sturdy. They offer a strong bite force that is able to stand up to virtually any food, including tough meats, seasonal desserts, and so much more.
A Healthier Jawbone
After the natural teeth go missing, the bone that once supported them becomes thinner and weaker over time. Eventually, this deterioration could affect your facial shape. Traditional dentures can even accelerate this unfortunate process. Happily, though, dental implants from an experienced oral surgery office are different. They act as substitute tooth roots, which means they stimulate the jawbone and help to keep it strong, healthy, and whole.
A Beautiful Smile
Everyone wants to love what they see in the mirror. Sadly, though, tooth loss is a major confidence-killer for many people, especially those who are missing their front teeth. Dental implant restorations look incredibly similar to natural teeth, so you will be able to smile without worrying that anyone will notice your prosthetics.
Easy Upkeep
If you have traditional dentures, you might miss the days when you could brush and floss your teeth like normal. Dental implants can allow you to get back into that routine. Most restorations are permanently fixed in place, so you can treat them almost exactly like you would treat natural teeth. Implants offer a convenient way to simplify your daily routine.
Decades of Function
Traditional forms of tooth replacement may wear out after 5 – 10 years or so. Dental implants, on the other hand, allow patients to enjoy decades of benefits. In fact, for many people, their implants last for their entire lifetime. The restorations on top of implants also have a long life expectancy.
There are many reasons to be thankful for dental implants! If you haven't yet committed to them, now is the time to schedule a consultation with an oral surgeon. You may soon be on your way to a healthier, more beautiful, more functional smile.
Meet the Oral Surgeon
Dr. Sheng Ji is dual trained in both dentistry and general medicine. He is a board-certified oral and maxillofacial surgeon who is proud to serve residents of Carmichael and the surrounding communities. Surgical dental implant placement is one of the many services he offers. To learn more about him and our practice, contact us at 916-961-1902.