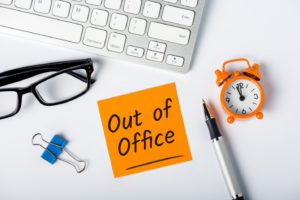 Taking time off of work to undergo dental implant surgery might seem like an inconvenience. You may be eager to leap back into your normal routine as soon as possible! However, it is important that you get adequate rest following your procedure. This blog post discusses some factors that influence how long you may need to stay at home and rest.
The Complexity of Your Case
If you receive just one or two dental implants, and there are no complicating factors in your case, you'll probably be able to return to work on the day after your surgery. If you want a little extra time to stay at home and rest, though, you might schedule your procedure for late in the week so you can roll the weekend into your recovery time.
More complex cases, such as those that involve several implants or a bone graft, may require you to take at least two or three days off of work.
The Nature of Your Work
Strenuous physical exertion should be avoided for at least three or four days following oral surgery. Exerting yourself too soon could cause extra bleeding and swelling in your mouth. Plus, it could slow down recovery because your body will should focus its energy on healing rather than physical tasks. Therefore, if you have a job that requires a lot of movement, such as construction, you may need to take more time off than someone who works at a desk job.
Your Overall Health
Younger people tend to bounce back from surgeries a bit faster than people who are up in years. Similarly, individuals with diabetes or other conditions that affect the immune system might take a little longer to recover. A history of substance abuse may also slow down healing time. Knowing your body and respecting its limits can help you avoid returning to work too soon.
Compliance with Post-Op Instructions
Your oral surgeon and their team want you to recover from your procedure with as little stress as possible. To that end, they will provide a detailed list of dos and don'ts for the initial part of your healing period. Following their instructions will reduce the risk that you will run into complications that could keep you at home longer than you expected.
Their list of directions might encourage you to:
Avoid smoking
Stick to a soft diet
Take certain medications or use a prescription mouthwash
Avoid touching your surgical sites
Your mouth may be tender for a few weeks after your dental implant surgery, but most people don't have to miss more than a couple days of work. Following your surgeon's instructions can make this part of your tooth replacement journey as easy and fast as possible!
Meet the Oral Surgeon
Dr. Sheng Ji is a board-certified oral and maxillofacial surgeon in Carmichael, CA. He is well-qualified to perform dental implant placement and a range of other complex procedures. To request an appointment with him or learn more about how he may be able to serve you, contact our office at 916-961-1902.