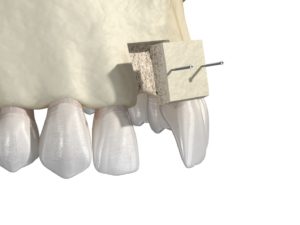 It is widely agreed that dental implants are the best way to replace missing teeth. However, one of the few things about them that could potentially be seen as a downside is that they come with a somewhat complex treatment process. In fact, many patients must receive a dental bone graft before they can begin to move forward with getting their new teeth. If that is true in your case, you have no reason to worry. Read on below to learn some details about this surgery and what you can expect while you heal from it.
Bone Grafting: The Basics
For dental implants to be successful, they must be firmly bonded with the jawbone. Therefore, the jawbone must be large enough and strong enough to support the implants, which will eventually serve as prosthetic tooth roots.
Unfortunately, some patients have experienced some bone loss in their jaw, whether due to injury, natural bone resorption, or other factors. For such individuals, a bone graft may be necessary. The surgery can fortify their jawbone and prepare it to serve as a strong and reliable base for their new teeth.
There are several types of bone grafts. In some cases, granulated bone material is placed into a tooth socket. In other cases, a block of bone is put in place to widen or deepen the bone. Grafts can be performed on either the lower or upper dental arch.
What Does Recovery Feel Like?
It is likely that you will be numbed and sedated during your surgery, so you can expect to feel very little, if you feel anything at all, while your dental team is working. Once the anesthesia and sedation wear off, you may experience some swelling, soreness, and general discomfort. Most patients find that the worst of the pain starts to subside within just three or four days. In the meantime, you can facilitate an easy recovery by getting plenty of rest, taking medications as recommended by your oral surgeon, and following other post-op instructions.
Your Recovery Timeline
Even though the initial discomfort from your surgery should be gone within a relatively short period of time, that is not an indication that your body is fully recovered. It may be several months — perhaps up to a year or longer — before the bone graft is fully integrated into your jaw and you are ready to receive dental implants. The exact length of your recovery will depend on the type of graft you received, your overall health, and a number of other factors.
Throughout your recovery, you will need to visit your surgical team periodically so they can keep an eye on how you are healing. They will also be busy planning the next steps of your journey with dental implants.
Bone graft recovery takes a bit of time and patience, but the final result — a healthy, strong, and complete smile — makes it a worthwhile surgery!
Meet the Practice
Dr. Sheng Ji is a highly skilled, board-certified oral and maxillofacial surgeon in Carmichael, CA. He offers bone grafting, dental implant placement, and a range of other advanced treatments. To schedule an appointment with him or to learn more about our practice, contact us at 916-961-1902.