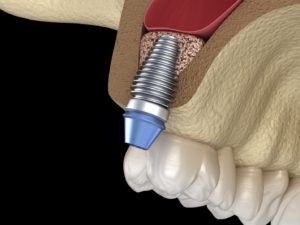 In some cases, a patient can receive dental implants soon after their initial tooth replacement consultation. In other instances, though, one or more preliminary procedures are necessary to prepare the mouth to support the implants. One such procedure is a sinus lift. What exactly is a sinus lift, and why might it be necessary? Let's talk about the answers to those important questions.
What Is a Sinus Lift?
A sinus lift may also be referred to as sinus augmentation or maxillary sinus floor augmentation. Essentially, it is a special type of bone graft.
During the procedure, an oral surgeon accesses the sinus membrane through the upper jawbone. They gently push the sinus membrane upward, after which they place a bone graft beneath it in order to keep it in its new place.
The primary benefit of a sinus lift is that it ensures the upper jawbone is deep enough to support dental implants. Otherwise, the implants might puncture the sinus membrane and cause complications.
Reasons for a Sinus Lift
Before you can get dental implants, you will have to schedule a consultation with a qualified dental professional. They will use imaging equipment — perhaps a CBCT machine — to get an in-depth look at your jawbone and other oral structures. If the scan reveals that your upper jawbone is not large enough to support dental implants without endangering the sinus membrane, you may need to undergo a sinus lift.
There are a few reasons why the upper jawbone may not be large enough for implants. Some individuals have a naturally thin jaw. Others have lost some bone due to past injury or surgeries. In many cases, a past case of periodontitis may have caused a person's jawbone to lose much of its strength and volume. Missing teeth can be another major contributor to bone loss in the jaw.
What to Expect from a Sinus Lift
Thanks to modern oral surgery techniques, you should feel little to nothing during the sinus lift surgery. Afterward, some discomfort is to be expected. Your doctor will give you instructions to facilitate an easy recovery. For example, you might have to adjust your diet, take pain medications, and spend a few days resting at home.
For most patients, the grafted bone is well-integrated into the existing jaw structure within 4 – 9 months. Soon thereafter, you may be able to receive dental implants.
A sinus lift is a delicate but common procedure. It can be an important stepping stone on the path to a complete and healthy smile. Your local oral surgeon will be happy to answer any questions you may have about it.
Meet the Practice
Dr. Sheng Ji has completed both dental and medical school. He is also board certified in oral and maxillofacial surgery. He uses his extensive knowledge to perform a range of procedures, including sinus lifts, dental implant placement, and more. If you have questions about what to expect during your tooth replacement journey, he and our team are ready to speak with you. Contact us at 916-961-1902.