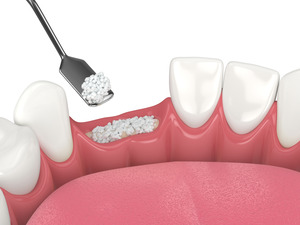 When a tooth is badly decayed or otherwise damaged beyond repair, sometimes an extraction is the only way to protect your oral health. However, removing a tooth without replacing it could have long-term consequences for your jaw. As such, your oral surgeon may recommend having a bone graft done right after your tooth extraction. The following post goes into more detail about this procedure and the benefits of having it performed after teeth are removed.
What is a Bone Graft?
In dentistry, a bone graft is a treatment that's meant to help rebuild missing or deteriorated bone structure in the jaw. In the past, bone tissues needed for grafting had to be removed from another part of your jaw or body, which requires additional surgery. Today, bone grafting materials may be used in place of your natural bone with no extra surgery necessary. Commercially available bone grafts can come from human donors, animal bone, or even synthetic bone. The bone tissue is then applied to the socket where the missing tooth used to be. This encourages the jaw to grow and regenerate new bone tissue.
Why are Bone Grafts Recommended After Tooth Extraction?
Without the stimulation of your teeth, the bone in your jaw tends to weaken and shrink. Over time, this can lead to further oral health issues, such as a misaligned bite or an increased risk of further tooth loss. But with a bone graft, your oral surgeon can help stimulate the growth of new bone to strengthen the jaw and protect the rest of your smile.
Furthermore, a bone graft can help you prepare for getting dental implants. Unlike traditional bridges and dentures, dental implants are surgically inserted into your jaw; this gives them chewing power and stability that's almost on par with your natural teeth. However, dental implants can only be placed if there's a sufficient amount of bone to support them. As such, even if you're not having your extracted teeth replaced right away, a bone graft can help ensure dental implants are a viable option in the future.
What Can You Expect During and After Your Bone Graft?
Bone grafting can usually be performed on the same day as your tooth extraction. Your mouth will be numbed, so you shouldn't experience any discomfort during the procedure itself. Afterward, you will be given a number of aftercare instructions to help you stay as comfortable as possible during your recovery. Most patients feel back to normal after a week or two, but it can take several months for the mouth to finish healing.
Following up an extraction with a bone graft is often the healthiest option for your jawbone. Don't forget to talk to your oral surgeon if you have any concerns about either procedure; they'll be happy to make sure that you have all of the information that you need to make whatever choice is best for your overall oral health.
About the Author
Dr. Sheng Ji is a board-certified oral and maxillofacial surgeon in Carmichael. He loves having a job that combines all of his interests while helping patients take care of their smiles. At his practice, he offers many different kinds of oral surgery including tooth extraction, bone grafting, and dental implants. To schedule a consultation with Dr. Sheng Ji, visit his website or call (916) 961-1902.