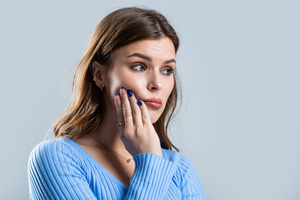 After wisdom teeth extraction or another kind of oral surgery, it will take time for your mouth to recover. During this period, you may experience some amount of swelling in your mouth. This is a completely normal side effect, but you'll probably find yourself wondering: "At what point will it stop?" Here are the facts behind why post-surgical swelling occurs, when it peaks, and how it can be managed.
Why is There Swelling After Oral Surgery?
Swelling is part of the body's natural healing process. Once your surgery is complete, fluid and blood cells are sent to the area to repair any tissue that has been damaged. As such, there's no need to be alarmed if swelling occurs after your procedure; it's simply a sign that your body is responding appropriately.
When Will the Swelling Peak?
For most people, swelling will gradually increase for a few days following oral surgery. In many cases, it peaks on the second or third day after the procedure. You can usually expect it to start to subside on the fourth day, but at the very least it shouldn't keep increasing. If swelling continues to worsen after three days, you should call your oral surgeon immediately; it could mean that you've developed an infection.
What Can You Do About Swelling?
Even though swelling is normal after oral surgery, there are still steps you can take to keep it under control so that you can stay as comfortable as possible. Your oral surgeon will give you some post-op instructions that can help you manage your swelling. In the meantime, here is what is generally recommended:
For the first few days, apply an ice pack to the area for 15 minutes at a time – that is, 15 minutes on, 15 minutes off. After a certain point, you can switch to using moist heat on the same schedule.
Make sure your head stays elevated at all times. You want to keep it above your heart to control your blood flow and minimize swelling.
Keep the healing process on schedule by avoiding strenuous physical activity for a few days.
Stay hydrated. Your body needs plenty of fluids for a successful recovery.
Avoid smoking at all costs. It has been repeatedly shown that smoking can interfere with the body's natural healing process and cause swelling to last longer.
If you still have questions or concerns about swelling or any other symptoms you're experiencing during your recovery, remember that you can always call your oral surgeon.
About the Author
Dr. Sheng Ji earned his Doctor of Dental Surgery at the University of California, San Francisco. He enjoys being an oral surgeon for one simple reason: he loves helping other people. At his Carmichael practice, he offers a full range of surgical procedures such as wisdom teeth removal. If you have questions about what you can expect after your surgery, contact Dr. Ji via his website or by calling (916) 961-1902.