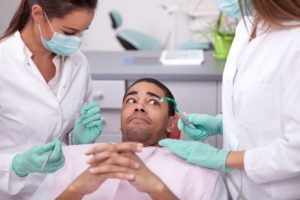 Many people experience anxiety or even fear when they have to visit their dentist. Those feelings may be amplified in situations where a major procedure, such as oral surgery, is necessary. Some people are nervous because they have had bad experiences in the past. Others, though, are afraid of the dentist simply because of the way oral healthcare has been portrayed in the media. This blog post discusses some unflattering depictions of dental care. It also touches on why there is no reason to shy away from your next appointment.
How Dentists Are Portrayed in the Media
Sadly, dentists in movies are often shown to be cruel. For instance, do you remember watching Little Shop of Horrors and cringing as a dentist played by Steve Martin sang gleefully about inflicting pain on his patients? There was also a sadistic dentist in Marathon Man; he was a Nazi war criminal who enjoyed torturing people.
Of course, even if dentists are not portrayed as being mean, they may be cast in other negative lights. For example, Dr. Sherman in Finding Nemo planned on giving his niece a fish even though she lacked the maturity to take care of a pet. He also got distracted and caused a patient pain when he accidentally pulled a tooth out too quickly.
Other dentists in movies and TV shows are rather boring. In The In-Laws, Alan Arkin played a mild-mannered, somewhat dull dentist who got dragged into all sorts of misadventures by his daughter's future father-in-law.
The Truth About Dentists
You can probably think of further examples showing how dentists in the media are depicted as being mean, boring, or incompetent. The good news is that those characters are showcasing the exception rather than the rule. In fact, most dentists are compassionate, highly skilled people who want to establish trusting relationships with their patients.
If you are nervous or even fearful of treatment, let your dental team know. To make you comfortable, they may work a little slower than usual and make attempts to be extra gentle.
Sedation might also be available. With the help of medication, you may be able to completely relax during your next dental procedure or oral surgery. It is possible that you will not even remember your appointment after it is over.
Most dentists, oral surgeons, and other oral health professionals are good people! You can trust them to take great care of your smile.
Meet the Practice
Dr. Sheng Ji is a highly accomplished oral and maxillofacial surgeon. He enjoys helping people, and he strives to treat patients as if they were members of his own family. If you require a complex procedure, such as wisdom tooth removal or dental implant placement, he is ready to serve you with compassion and gentleness. Contact our Carmichael office at 916-961-1902.